Force gauge equipped with a displacement display and displacement control function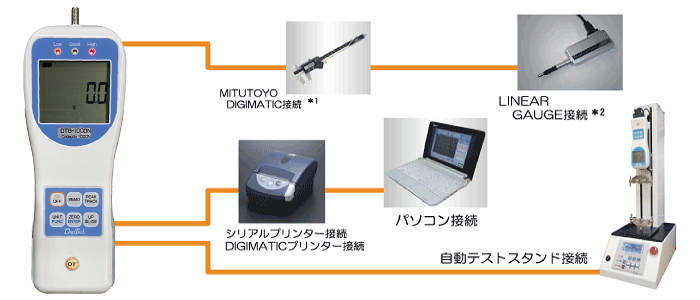 MANY FUNCTIONS! SIMPLE OPERATION!
Easy-to read,auto-reverse large LCD display.
Auto power OFF function.
Memory up to 1000 data of peak and hold values.
Print out measuring data with connection to printer.(Serial output,digimatic output)
connectable to computer through USB output cable(standard accessory)
Automatic peak measuring value record(Auto-memory function)
By setting control value of load and displacement it is possible for control the instruments.
Overload warning.(LED flash and sound alarm)
Ni-MH battery.(environment-friendry and pollution-free battery)
Battery remain display.
Display reverse function.
Present values of ON,OFF points. (by connection with points of switch and connectors etc.)
A multi AC adapter(AC100V~240V) is provided for battery charger.
DTG series specification
| | |
| --- | --- |
| Measuring shaft | M6 |
| Measuring accuracy | ±0.2% F.s |
| Measuring unit | N, kgf(gf), lb |
| Measuring cycle | 1ms, 5ms, 16ms, 50ms (selectable) |
| Display renewal cycle | 1, 2, 5, 10, 20times /sec (selectable) |
| Communication method | USB mini B |
| Memory | 1000 data |
| External input | Mitutoyo digimatic input, pulse input.(displacement meter)point ON,OFF load detection input. |
| Printer output | Serial output,Mitutoyo digimatic output. |
| Output for test stand | Load setting /displacement setting method UP,DOWN,STOP output.overload output(open collector output) |
| Analog output | ±2V / f.s(load value only) |
| Tolerance judgment output | LOW・GOOD・HIGH LED lighting and output.(open collector output) |
| Display | H45mm×W50mm LCD. Load: 6digit, Displacement: 7digit. Battery remain quantity. |
| Dimension | H220mm×W74mm×D37mm |
| Weight | approx. 500g |
| Operationtemperrature | 0℃~+40℃ |
| Power source | Ni-MH battery. AC100V~240V multi AC adapter. |
| Standard accessory | 6pcs jig. A multi AC adapter.USB cable.Carrying case.Operation manual.Test Certificate |
※Specifications are subject to change without notice.
DTG series Another model list
Model
DTG-1
DTG-2
DTG-5
DTG-10
Capacity
10N
(1kgf)
20N
(2kgf)
50N
(5kgf)
100N
(10kgf)
Resolution
0.001N
(0.1gf)
0.01N
(1gf)
0.01N
(1gf)
0.01N
(1gf)
Model
DTG-20
DTG-50
DTG-100
Capacity
200N
(20kgf)
500N
(50kgf)
1000N
(100kgf)
Resolution
0.1N
(10gf)
0.1N
(10gf)
0.1N
(10gf)

【FREE SOFT WARE】
※Data capture free software to Excel can be downloaded
from here.

【OPTION SOFT WARE FX-100T FX-100】

【Standard accessory】